The heavy parties last night definitely tore some alarm clocks down. The Sports Event, which was announced at 10:00 a.m. had quite a few participants over the first half an hour. Sleepy heads, eye circles, lazy yawns and shy early morning small talk [yes, 10 a.m. is early morning at ISWI].
The BC Cafe took good care of the participants and provided water, tea and orange juice, while the ISWI Radio provided the good music.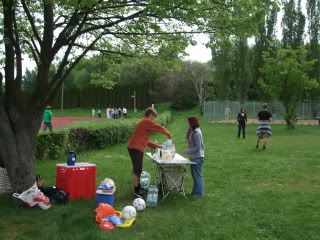 Around 11:00 we were about three times as many as the half hour before and the games started one by one. The beach voleyball, the basketball, football, frisbee, on tunes from The Ramones, Franz Ferdinand, Cake, The White Stripes and so on.
One glorious part of the Sports Event was the arrival of the lunch packs, around 11:30.
People ate laying on the grass, doing small lunch talk and enjoying the nice weather and music. [told you it's not going to rain all ISWI!]
And so i was there, enjoying my tea, when the Capoeira group really caught my attention. Bare foot and well prepared, the sports people offered a glimpse on what this sport [or should i better say art?] means.
*the most active players: basketball; started first, finished last.
*the most sandy: voleyball, had this mini beach which i envied them for.
*the most culturally diverse: football; they had brazilians, egyptians, ukrainians, argentinians, russians.
*the most artistical: ladies und gents, Capoeira.
*the most pretty legged: cheerleadeeeeers.