"Bunaa, ce faci?", "Wie, bitte?", "Como estas, mi amigo?", "Excusez-moi, je voudrais une biere".. yes, this is ISWI - day one.
Welcome everyone! A sunny day here in Ilmenau, birds are singing, flowers are blooming, the ladies at the Mensa are cooking great food and meanwhile, some little bees work so that everything goes well with this spring's event.
So. After you've arrived, taken a shower, eaten the road sandwhich and phoned your family, it would be a good idea to go by the InfoPoint(downstairs at the Mensa) and meet the people down there:
Besides the fact that these three handsome guys are helpful and shinny, you can get here all the useful info you need:
and also some free stuff for runny noses and dirty glass lenses: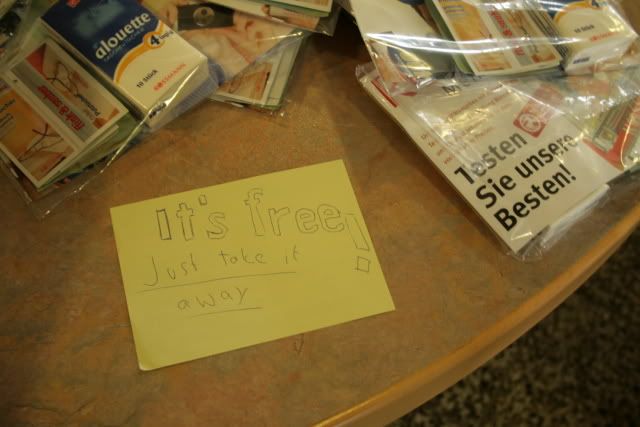 It's also there that you can write on the Wall. Not the Berlin one, but The Prejudices Wall. Do you believe that tall women can kick any man's ass or the Americans were born holding a burger and a coke? Just write it down here(*note: no one should take any of them personally, it's just stating prejudices and later on discussing about them). :
Moving on, the same building hosts the ISWI radio station. Nice music, happy people, online debates, fresh news and one funny mascot:
So, have fun, eat bratwurst!